We are excited to have the opportunity to have this young dog join our family. Debit is the product of two pedigrees we have long admired. Thank you Jamesa Maulden for sharing this promising young dog with us. Thank you to everyone else who made this litter possible. As a young puppy, and at his first show Debit wins a 4 point major going winners dog at the Lower Columbia Siberian Husky Club Specialty show. We look forward to seeing what the future offers this young dog.

* Owners ~ Andrea Phillips and Jamesa Maulden
* Breeders ~ Jamesa Maulden (Syntari) and Cindy Fogitt (Wolvereen)
* DOB ~ 09/07/20
* Health Certifications and Pedigree (OFA) ~ Too young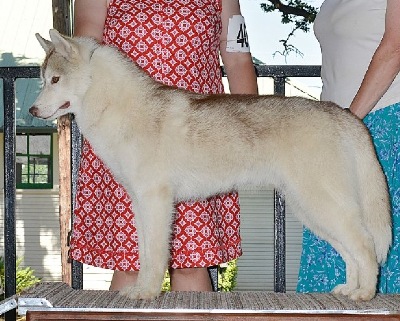 Puppy Debit's first show! He earned a major under breeder judge Ann Palmer.